Development continues afoot. The beta stage is fast approaching. My list of enhancements is now a lot shorter, and many of the items on the list are either going to be moved into the next version, or will be taken care of during the beta stage. Here are some of the more notable features and changes added recently.

Spelling Checker
You can now spell check your notes and other fields using the right-click menu (there's a Check Spelling entry for most text editing fields).
The English dictionary is built into the app, but you can easily download French, German, Italian and Spanish dictionaries from the Preferences window and use one of those if you are using one of those languages.
Late breaking news: In-line spell checking is also enabled (i.e. misspelled words are displayed in another colour)
Image Manager and DSS Images
Formally known as the DSS Cache Manager, this has been jazzed up quite a bit to make it easier to mess with your cached images.
You can now see your image collection by ID, by image (FOV) size, by RA, or by Dec, as well as by data set as before. Also, if you select a "folder" in the hierarchy, a thumbnail of all the images contained in that hierarchy is displayed.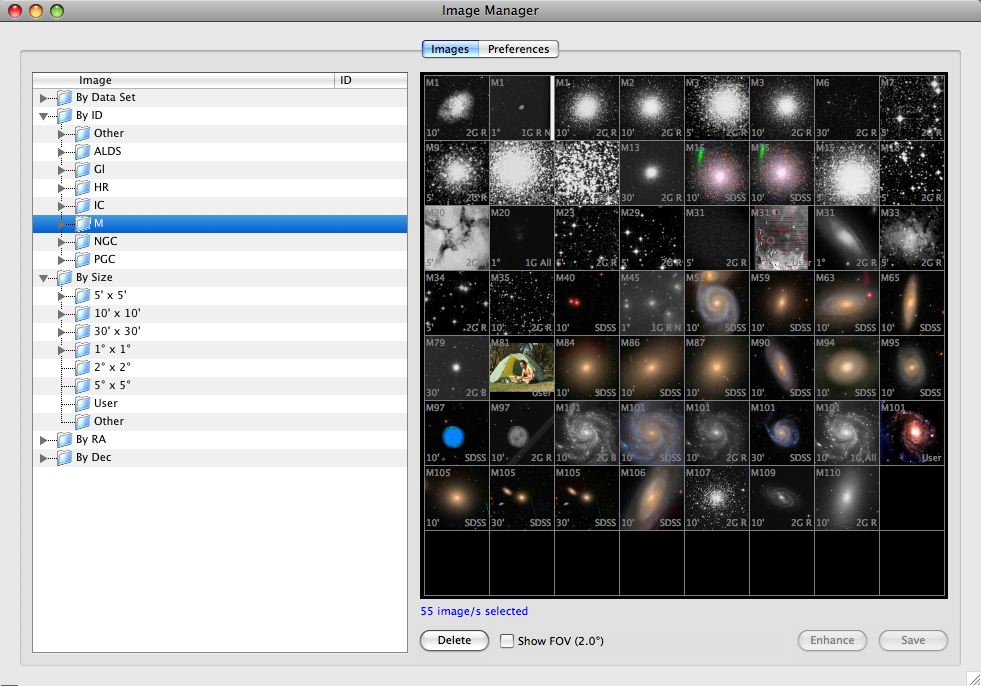 You can overlay the current FOV as a circle on the images.
When you rotate or flip the FOV, the DSS images are rotated and flipped to match the FOV.
Object List Columns
You now have more control over the object list columns. The List Column editor has a choice of formats for various columns.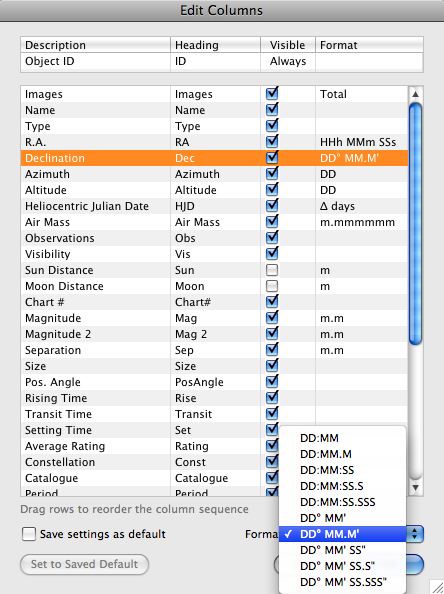 Also of interest is the Images column. The little "D" in the ID column that signifies that an object has DSS or user images now has a column of its own, and has several different formats. e.g. below it shows the sizes of image each object has cached.
Etc, Etc, Etc.
Many other small and useful things have been added, such as a way to save your favourite sorts (e.g. By Type, Altitude descending), give them a name and call up that sort instantly when you need it; A way to enter and display "light domes" on your horizon so that you know when not to look for dim DSOs; etc.
There are still some more goodies to be added, but I'm hoping to complete those and get to the "public beta" in the next few weeks.